RAZISKOVALNO IZOBRAZEVALNO SREDISCE DVOREC RAKICAN – (SLOVENIA)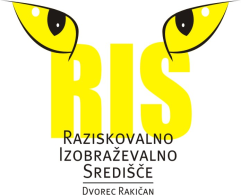 Organization's description:
Research and Educational Centre Mansion Rakičan is a regional public organization from Rakičan, Slovenia and is founded by the Municipality of Murska Sobota and co-founded by the Association for Technical Culture of Slovenia. We work in the field of research, education, tourism and intergenerational cooperation. Our goal is to strengthen our position in relevant strategic areas by consolidating and concentrating our resources. We cooperate with, local and regional organizations, local community, business partners and other international organizations. We are also involved in national, cross-border and international projects, and therefore act as a dynamic and adaptable institution. We are carrying out interdisciplinary work and developing a successful synergy between education, research and tourism.
In the field of education we conduct several formal and informal educational programs, the basis and inspiration of which stem from current, real-world needs and are designed to suit children, young people and adults.
We have an active youth centre "RISKO" that focuses on young people in our region by presenting them with the opportunity to develop their creativity. In the youth centre "RISKO" a programme titled "Centre for Personal Growth and Communication" is being implemented, which was developed in cooperation with the City Municipality of Murska Sobota and the Centre for Social work Murska Sobota and is being funded by the Slovenian Ministry of Labour, Family, Social Affairs and Equal Opportunities. The programme enables active participation of children, young people and their families (free of charge), while offering individual counselling and creative workshops. The programme aims towards improving and furthering of communication skills and social competences of participants, and helps them how to effectively manage their emotions; it also offers support in the form of learning aid activities.
We are aware how important national and international cooperation is, thus we are trying to develop projects that have a broader perspective. We are preparing Erasmus + youth programs, which we are organizing and implementing as well as several other national projects in the field of youth work, entrepreneurship and culture. In addition, we are also organizing language courses. Each year we host and organize at least three international conferences in the field of ecology, education, health, nutrition and social issues. All conferences have a long tradition and are highly acclaimed in Slovenia and other countries.
Our organization is situated in a mansion, which dates back to the 15th century. The administrator of the whole building is RIS Mansion Rakičan. Among other things, we strive to conserve, promote and develop cultural and natural heritage. Since the partial renovation in 1990, the mansion features 6 fully equipped class rooms and one multimedia room, which are used for numerous formal and informal educational programs, international conferences, seminars and different events. In addition, the venue includes 14 rooms that can be booked. In May 2015 we have reconstructed and opened a gallery that features artworks from local painters.
Additional information:
Leagal name: RIS, Raziskovalno izobraževalno središče Dvorec Rakičan (eng: RIS, Research and educational centre Dvorec Rakičan)
Director and legal representative: Mr Robert Celec
Website: http://www.ris-dr.si
Contact: [email protected]
Telephone number: + 386 (0) 2 535 18 96
Facebook:  RaziskovalnoIzobrazevalnoSredisceDvorecRakican